A couple of weeks ago, we talked about how
Amazon is killing Meta + Google's ad business
and fired up conversations. After all, it is nothing short of a blow for an e-commerce company to challenge the two biggest global advertisers, however obvious it may seem.
Today we explore are going to talk about one of our very own Indian Startups - Inshorts, which is ticking all the boxes to grow its ad business into a mammoth.
Do you know what the first online ad was?
In the year 1994 world's first online banner ad by At&T appeared in Hotwired magazine with a run time of three months for a price of $30,000. This was the advent of digital advertising. The market is touted to touch $19.2B by 2026. In this cut-throat industry, this is how an Indian startup, Inshorts, is casting its dent, probably at the brink of disrupting it forever for Indian advertisers.
Quick Context
It started in 2013 with just a Facebook page to provide news in a snackable 60-word format. It garnered 20K+ followers within a month. This was one of the keys to building PMF for the founders.
Next, it launched an app and saw resounding adoption. The App got 1 million downloads in just six months.
Fast forward to 2015, and Inshorts is now ranked as one of the #1 apps on PlayStore. It's at 20 million downloads with a monthly active user base of 8 million & more than 78% user base is in the age group of 18 to 35.
Despite this, Inshorts was not running any ads on its platform for the first three years. Here's why it was actively making this choice ⬇️
Inshorts wanted to build for Users more than Advertisers
The JTBD of the platform was to provide personalized news in 60 words in the form of facts rather than adding any of their views. One of the key metrics to judge the stickiness of the platform is its engagement i.e. avg number of shorts read by a user is 80 per day.
Today, 70% of their app downloads come organically, and almost 35% of the news consumed in India is done on Inshorts.
Time to make some money - Inshorts Entry Into Advertisement
In 2016 Inshorts launched its first ad on its platform with Airtel. By 2018, the platform was able to partner with 100+ top clients. Netflix, Maruti Suzuki, MRF, Audi, and Inshorts now have 500+ brands under their kitty.
From Day 1, the principle of the platform has never changed.
Active & Engaged User > Ad Revenue The Metric to be measured for the company is shorts read per day by a user. Inshorts users come to the App almost 15 days a month, i.e., practically every alternate day.
Be transparent with Advertisers. No false promise of conversions. Ad formats with clear demarcation for Brand Awareness & Engagement. This can be seen in the growth of their partnership, starting from 1 in 2016 to 400+ in 2022.
Innovation is the key. Be open to more than just a plain vanilla approach to display ads via banners. Instead, think native, think engagement, and personalize the solution for every industry. Result - More than six ad formats and numerous others in the experiment phase.
Following the above mantra, Inshorts was able to find its vital revenue stream and grow to $10M ARR from ads in 2019, which would have indeed crossed $30M ARR by 2022.
Next, Inshorts survival & evolution.
It has a lot to do with its user-first approach.

Compared to similar news aggregator platform apps like daily hunt, which has almost 5 to 7 times the MAU as Inshorts, Inshorts is charging almost 1.5X to their client. The best part is that it is being done at scale.

| | | | |
| --- | --- | --- | --- |
| Particulars | Inshorts | Daily Hunt | Times Of India - Digital |
| App Download | 20M+ | 150M+ | 10M+ & Website visitors |
| MAU | 8M | 68M | 124M+ |
| Ad Formats | ㅤ | ㅤ | ㅤ |
| Banner | Rs 0.21 / Impression | Rs 0.08 / Impression | Rs 0.07 / Impression |
| Article Partnership | 5L / Day | 2L / Campaign | 1L / Day |
| Video Ad | Rs 0.4 / Impression | Rs 0.15 / Impression | Rs 0.3 / View |
| Roadblock | 10L / Day | 6L / Day | 8L / Day |
| Engaging Magazine / Fact Cards | 20L / Day | NA | NA |
| 360 Degree Video Ads | 22L / Day | Rs 0.15 / Impression | Rs 0.3 / View |

Inshorts must be offering something that, despite such a high-cost structure, they have been able to scale its ads business and retain its clients. This shows the value and quality of the engaged user base it has.
---
Before deepening how Inshorts approach the ads business differently, let's look at the typical problems in this space.
User Experience (UX)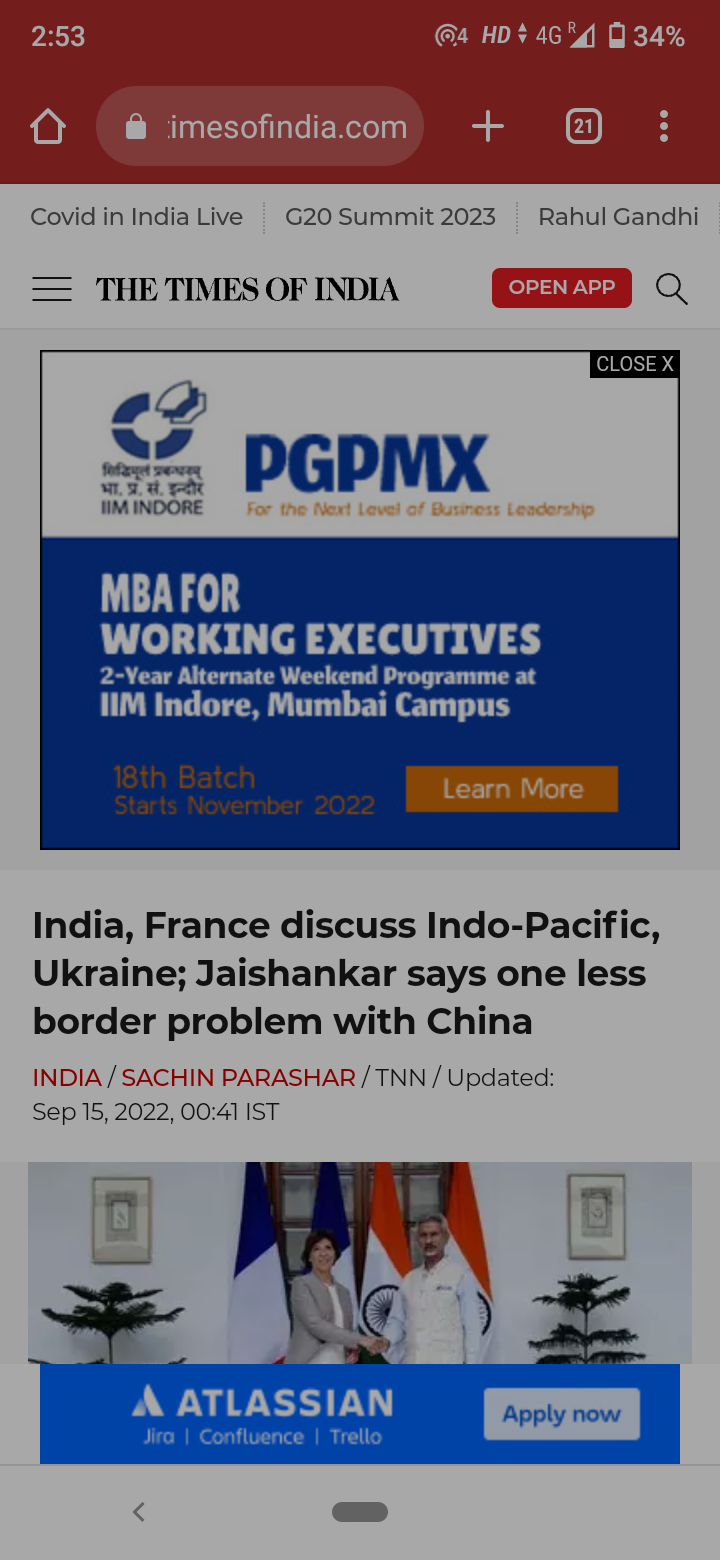 The above image is why products like ad blockers exist. First, you go to the platform to read an article & get bombarded with ads left, right, and center. Then, even after dismissing everything, I am shown a full-page pop-up. It's downright cathartic.
Now, whether a user organically wants to be back is a question for this product manager of this product. Is the compromise on user experience for revenue justifiable in the long term? For the record, the result is an excessive bounce rate of more than 70% on most platforms.
Advertiser - Losing Money With Every Impression
Firstly, one of the significant concerns advertisers have is bot clicks. Can you 100% trust the clicks you are getting on your ads? If the answer is no, you lose money with every click.
Second, advertisers need help to bifurcate platforms for different objectives. For example, the exact ad placement & format is being sold to 3 other advertisers for three different purposes - Awareness, Engagement & Conversion.
Thirdly, there needs to be more innovation in the ad formats and placement options. Why haven't most publishers thought of innovating based on industries?
The above problems result in a loss in daily active users/ engagement leading to revenue decay over a more extended period.
---
Enter, Inshorts approach to the above problems.
Zero Tolerance in User Experience Providing the option to personalize the feed, having a relevancy score to every single short being shown to the user, and allowing snoozing the push notification for a specific time shows how much the platform wants to keep the user experience at its core, even if it comes at the cost of some $$$$.
Ad Formats & Placement That Stand Out The ad format followed by Inshorts has been phenomenal. Most of the time, it doesn't feel to a user that they are reading through an ad. Sometimes when the user knows it's an ad, they are so engaged with the ad content that it's creative that they prefer to engage with them. Let's look at a few of the most popular ad formats

60-word format - Native Ad format for Engagement - Advertisers can share their ads with Inshorts reader base in 60 words along with an embedded picture or video. All Inshorts' editorial stories follow a similar format, so this ad has a "native advertising" feel. The ads are listed as "Powered by" along with the advertiser's name.
Fact Cards - 

Engagement & Awareness

- Everyone knows how engaging data is. This ad format builds great engagement and conveys the brand message. Fact Card Ads are displayed as an image banner ad below an image containing some exciting fact related to the brand or product. Fact Card Ads get displayed on the 2nd card.
Magazine Cards - Engagement & Awareness - It is a longer format of fact cards in a carousel format. This displays fascinating facts that keep the user hooked and engaged throughout the carousel. In addition, magazine Card Ads have 6 to 7 portrait images with exciting information regarding the brand or product, which will be displayed as a carousel. Magazine Cards are showcased on the 2nd or 11th card.
Interstitial Ads - Awareness - Interstitial Banners are full-screen banner ads appearing after the first five cards and then appearing after every 7 or 8 cards.

There are a few more ad formats, but the above are the ones that made a list for this article.
Customizing the product offering for Industry-specific use cases

For example, crypto trading platforms in India had limited advertising options, and with hardly any innovation by publishers, the only option left for them to reach scale was television.
Inshorts found this as an excellent opportunity for crypto platforms. It showed a live market - a replica of what the app screen looks like as one of the full-screen cards. It was intuitive and engaging and garnered outstanding results. The data would change in real-time every time a user saw the card.
This helped them take CoinDCX, CoinSwitch Kuber, and WazirX as their premium partners.
Localize the offering for city-based targeting.

Most advertisers, except Google / GB / Twitter / Snapchat of the world, seldom offer city-based targeting, especially for local business growth. Inshorts created segmentation targeting available to advertisers. Check the IKEA example.

The IKEA campaign by Inshorts for the specific city when IKEA launched its retail location.
Deep Understanding Of Their User

User data and understanding user patterns and behavior on the platform are crucial to running any platform. Unfortunately, Inshorts doesn't collect much data from the user. But the company has always focussed on retention and user understanding. They acquired Retention.ai in 2017 for the same purpose.
The ads run are not just based on your personalized feed choice, news consumption pattern, and interest areas but also on shorts read per session, engagement with previous ads, bookmarking habits, and your feedback on the relevancy score for each card.
UsinThe platform provides excellent targeting to advertisers using data points and critical first-party data, their communication & Working closely with the Advertisers.
Clear communication & Working closely with the Advertisers

Providing suitable creative layouts and ideas on what works with the Inshorts user base is the key to success.
Giving a clear indication to advertisers on what to expect from ads on Inshorts is a key to having a long-term partnership.
Ad formats, placements, and objectives are clear from day 1 to the advertisers, keeping them in a comfortable zone.

 
Returns from all these approaches are straightforward. It is charging higher than all its competitors with even a lower MAU.
---
How does Inshorts become a larger company?
Keep the ad format innovation engine on (improving CTR on ads) The focus is also to introduce multiple graphical, infographic representation ad formats & the optimum number of ads to be shown to a user at a specific slot & time. Stay focused on the battle of user > ad revenue.
Expand to more geographies.

Currently, the App offers only English and Hindi as the language choice. Unfortunately, this limits the App's penetration to the masses, limiting them from monetizing on the opportunities where brands want to mark awareness at scale. Inshorts is working to provide multiple other languages, and this might be rolled out soon, but we need to keep pace.
Inshorts launched another app - PUBLIC - Your city's Local updates and videos on your smartphone in 15 languages. Clearly define what the focus is going to be between Inshorts and Public.
Diversify its portfolio of clients.

Move beyond companies that are focussed on awareness. Is there a way Inshorts can find a path to work out formats or placements that lead to conversions at scale? This will open up the gates for smaller brands and recurring revenue. Currently, most revenue comes from big FMCG, Automobile, or OTT clients. This can be seasonal.
To work on a conversion-based model is a double edge sword. It brings recurring revenue at scale, but this might hamper the user experience as the count of ads will increase, leading to more cards with ads than actual news shorts.
---
That was the ad monetization drill down with Inshorts. At GrowthX, we focus on building the proper monetization framework for early → mature stage products. If you are doing an advertising business and struggling to solve the right monetization levers, check out the 
new GrowthX experience
.
Written by
Vikash Singh
Vikash is growth leader who has spent 10 years at the intersection of growth & marketing. He has led teams at Paytm & Tata Health to scale their Growth function.